Fresh, healthy, and simple, this hummus recipe will leave others green with envy.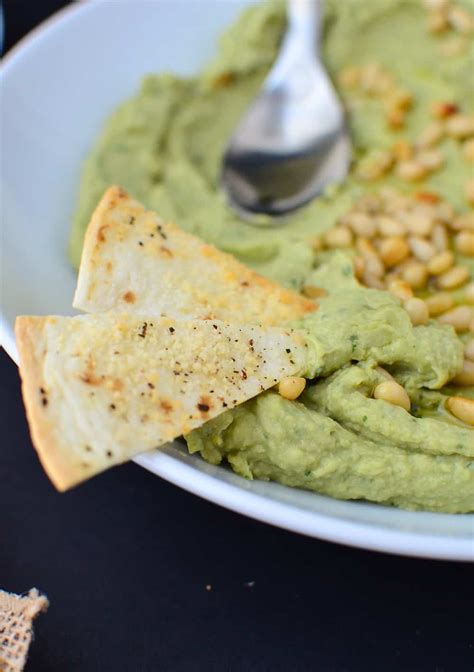 Ingredients
1 can garbanzo beans, rinsed and drained
½ cup basil leaves
2 cloves garlic
1 avocado
1 lemon, juiced
2 tablespoons plus 1 teaspoon olive oil, divided
2 tablespoons water
Pinch salt and pepper
¼ cup pine nuts, toasted
4 flour tortillas
Coconut oil or olive oil spray
¼ cup parmesan cheese
Step 1
Preheat oven to 400°F. In a food processor, pulse together garbanzo beans, basil, and garlic cloves with a pinch of salt and pepper. Add the avocado, lemon juice, 2 tbsp olive oil and water. Puree until very smooth and creamy.
Step 2
Remove the hummus and drizzle with olive oil and toasted pine nuts. Step 3 Stack the tortillas and slice in ½. Stack those together and slice into 4 wedges. Remove and place on baking sheets in a single layer.
Step 4
Lightly spray with coconut oil or olive oil and sprinkle with ground pepper and parmesan cheese.
Step 5
Toast for 7-8 minutes until golden brown. Remove and serve with avocado pesto hummus.